Easily add team members with the new auto-members feature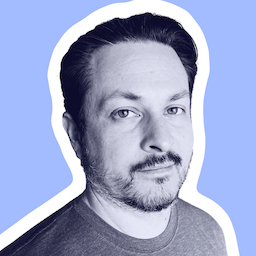 By Clayton Lengel-Zigich • March, 9th 2022
Now you can more easily add new team members to your Organization when they join flowtopic. It works with your verified email and only takes 30 seconds to setup.
How private meetings work
If you need a quick reminder on how flowtopic's private meetings work, here's a super short explaination:
Public meetings are accessible by anyone with the meeting link
Private meetings are only accessible by members of your organization
So despite the fact that you can still use a waiting room to control who actually attends the meeting, private meetings are more strict about who's allowed to join.
Introducing auto-members
Okay, you now know the importance of inivting your team, but you don't want the hassle of doing it for each new personw who joins.
With the auto-members feature enabled, when a new member of your team joins flowtopic using their work email, they automagically get linked to your Organization!
Why we added it
While it's possible to invite specific members of your team to your Organization so that they can participate in private meetings, it can be a lot of work.
So why not let the computers do it for you?
The auto-members feature saves you time. You don't need to think about who's been invited (or not) and you don't have to complete any manual steps to get your team invited.
It just works!
How it works
The auto-members feature is mostly behind the scenes and invisible to you and your team, but there are a few important bits of setup.
During signup
Enabling auto-members starts when you signup with your work email and create a new Organization with a paid plan.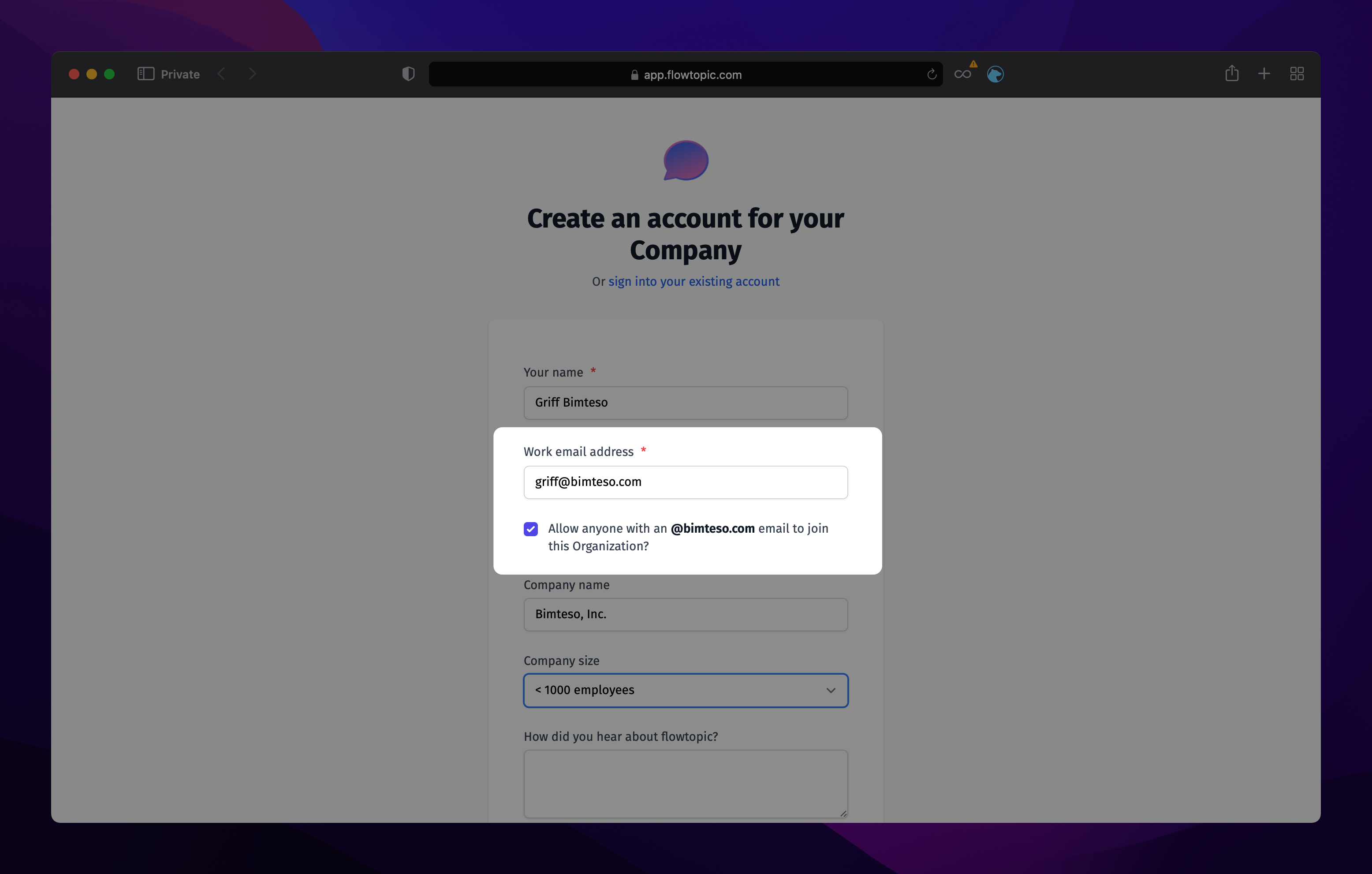 Verifying your email
The next step is to verify your email. This prevents internet bad guys (and pranksters) from signing up with an email they don't actually control, and trying to virtually steal your team members.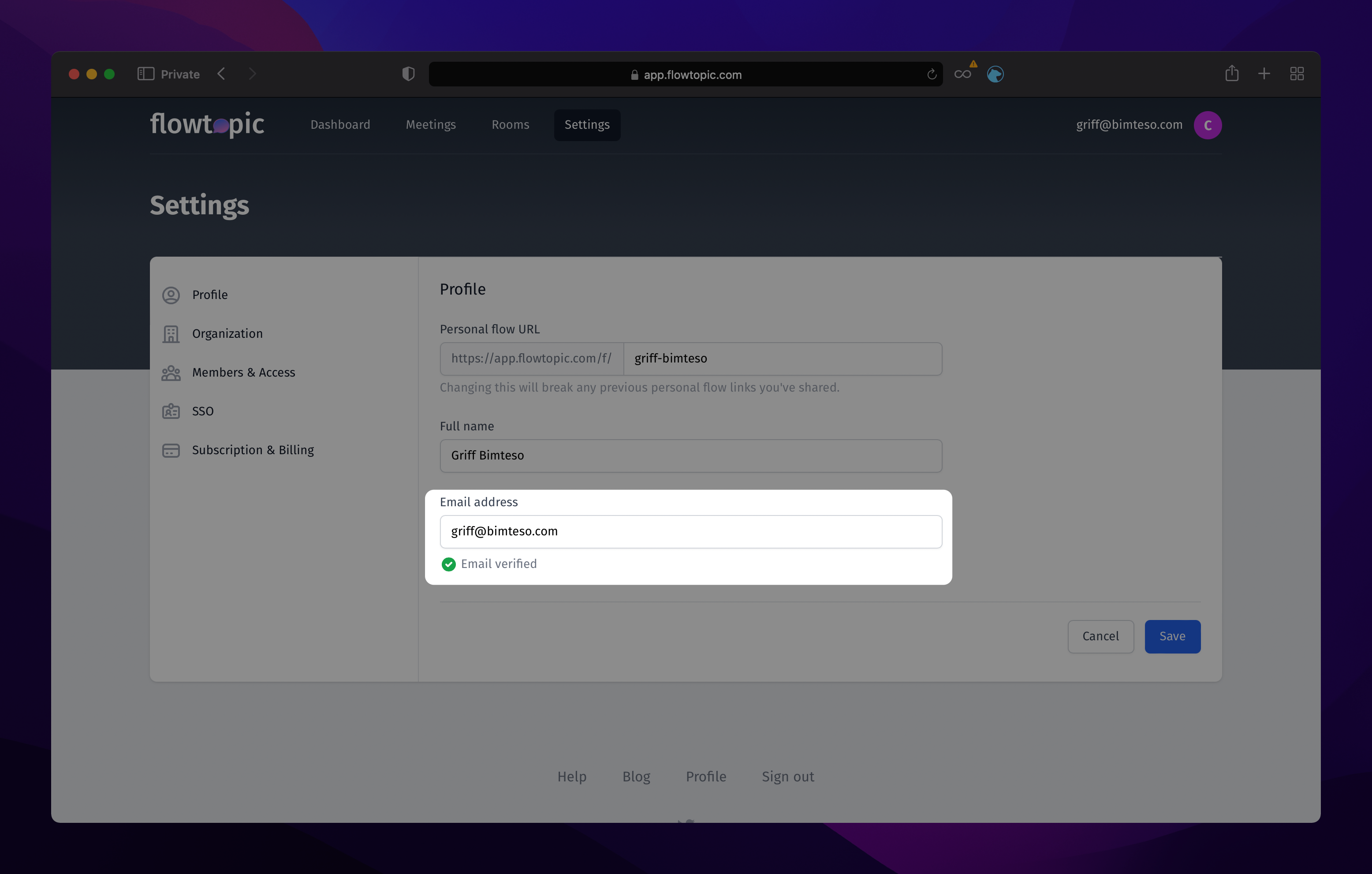 When new team members join flowtopic
When a team member signs up for a new account on flowtopic, and your Organization is using the auto-members feature, we try to match their email account to yours.
For example, we've created the Bimteso, Inc organization and Griff has verified his email [email protected]
When Wally from Bimteso, Inc. signs up using [email protected] email address we match [email protected]bimteso.com with [email protected]bimteso.com and see the potential match.
Once Wally verifies his email we assign him membership to the Bimteso, Inc. Organization.
Finding existing team members
Sometimes team members join before you can verify your email, or before you enable the auto-members feature. But don't worry, we thought of that and made it really easy to find and add team members with existing flowtopic accounts to your Organization.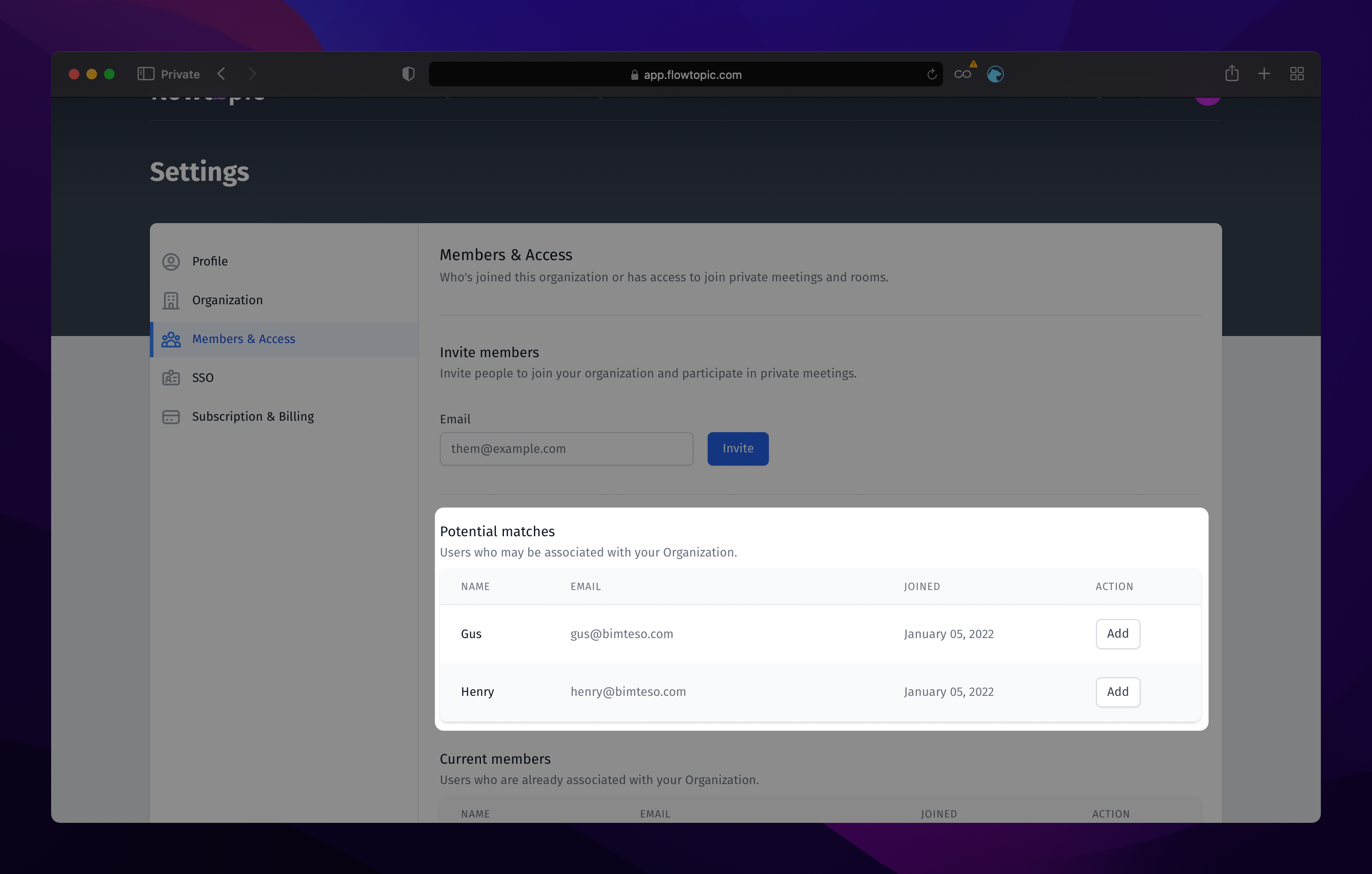 Enabling or disabling auto-members
If for any reason you need to disable the auto-members feature, it's super easy to toggle on and off in your Organization's settings.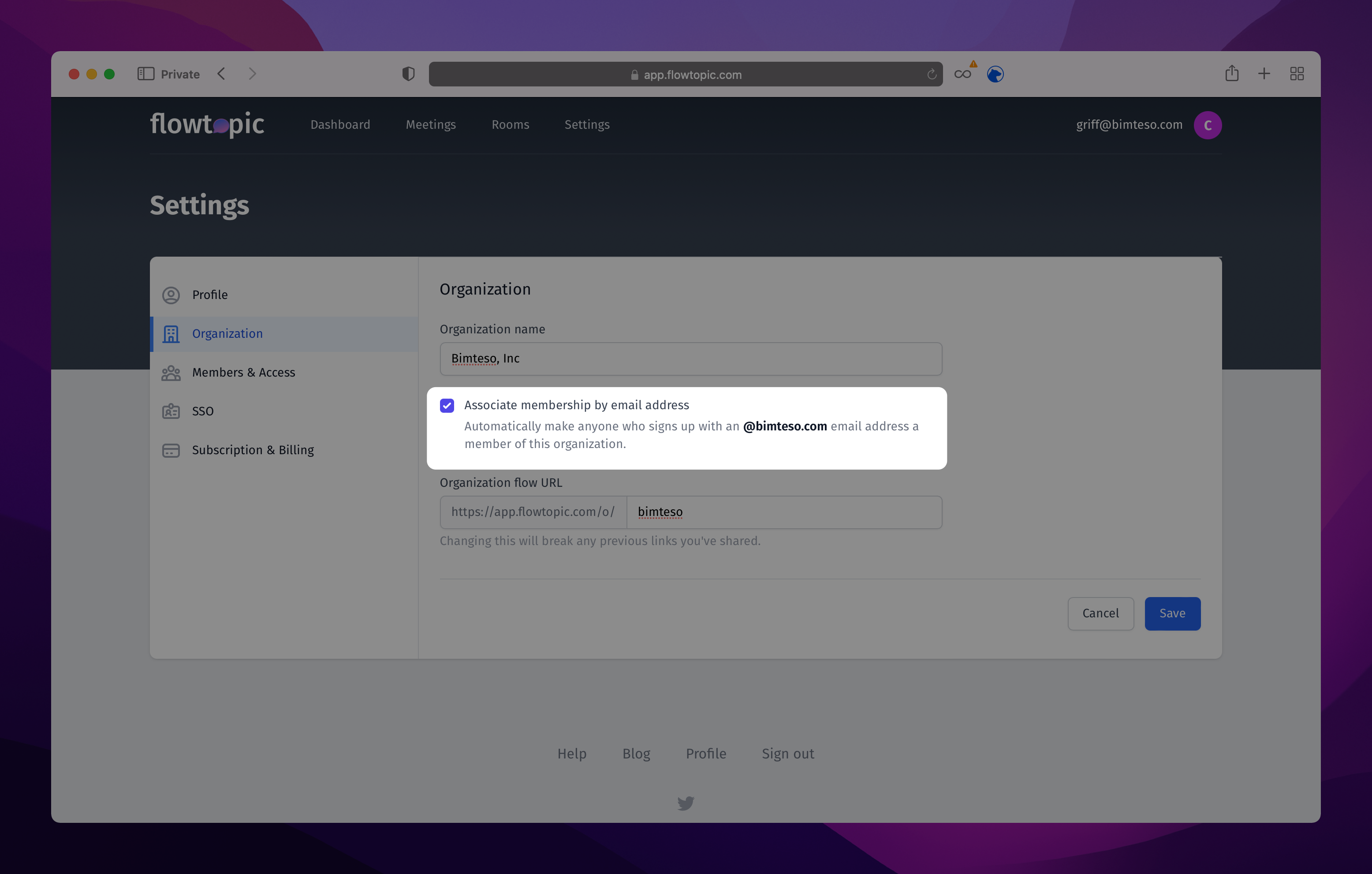 Who can use auto-members
The auto-members feature was designed for paid Team and Business accounts who have access to private meetings. Community accounts do not have the ability to use auto-members.
Feedback
Is there a way we can make auto-members even better? Let us know by reaching out [email protected].
Ready for better meetings?
Start a 14-day Free Trial.
flowtopic is the easiest way to run Virtual Lean Coffee™ style meetings.
Start My 14-day Free Trial